Orange County Divorce Attorneys
Newport Beach Divorce Lawyers with 100+ Years' Combined Experience & Excellence
At Burch Shepard Family Law Group, we have devoted ourselves exclusively to the practice of family law. This allows our Orange County divorce attorneys to maintain a steady focus on the intricacies and evolution of California divorce law. All told, our certified family law specialists in Orange County bring more than 100 years of experience to the table.
An OC divorce attorney from our firm can help resolve disputes related to:
Ready to file for divorce in Orange County? Contact us online or call us at (949) 565-4158 today to speak with an experienced Orange County divorce attorney today.
What Are the Grounds for Divorce in California?
In the state of California, the spouse who initiates the divorce does not need to accuse the other spouse of wrongdoing. This is known as a "no fault" divorce. "Irreconcilable differences" are sufficient legal grounds for the dissolution of a marriage. Neither does the state of California require both spouses to agree to the divorce. So long as one spouse wants the divorce, the other spouse does not have the legal power to stop the process.
Understanding the Differences Between Litigation & Divorce Mediation
Divorce mediation is a process that takes place outside the courtroom between divorcing spouses and a third-party mediator. Working together, a settlement is mutually agreed upon and then implemented as a court order.
The advantages of divorce mediation can include:
A more cost-effective alternative to litigation.
The opportunity to dictate the terms of settlement.
The fostering of a more amicable relationship moving forward.
Greater privacy and flexibility - schedule meetings around your schedule, not the court's.
Because not all divorcing couples are capable of engaging in this sort of back-and-forth, divorce mediation is not for everyone. The Orange County divorce lawyers at Burch Shepard Family Law Group work with each client to determine whether litigation or divorce mediation is in their best interests. Some of our lawyers have extensive experience as divorce mediators. Our experienced California divorce lawyers can help you file for divorce, negotiate favorable settlement terms, and if necessary, fight for you in family court.
When Should a Divorce Be Litigated?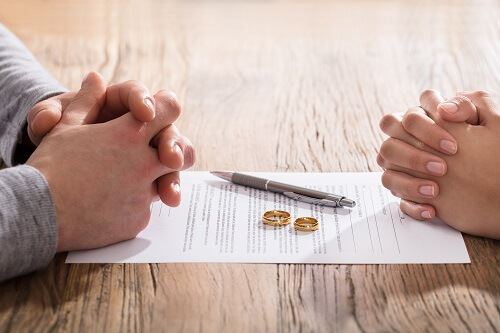 Litigation is the term used to refer to legal proceedings initiated by two opposing parties to defend or enforce a right. Many believe this method requires the two parties to go to court, when in reality, about 95% of divorce litigation cases settle outside of court.
Litigation is a more extensive process that can cost you both time and money. If you're looking for a fast way to end a marriage, this is not it. So, when is it a good idea to have a divorce litigated?
Some reasons to litigate a divorce include:
When both parties are not in agreement to obtain a divorce
When couples can't decide on child custody, property division, and alimony
When domestic violence is involved in the case
When arbitration and mediation do not work
Divorce often brings forth strong emotions in both parties, making it difficult to reach agreements. If you and your ex constantly fight and are unable to look at each other, let alone see things from the other's perspective, litigation might be necessary for the divorce. Our Orange county divorce lawyers are here to help.
How Does Bankruptcy Affect Divorce?
Given the state of the economy, many families face financial hardships as the result of a loss of a job, medical bills or overwhelming credit card payments. At our firm, we frequently work with clients who are simultaneously going through the divorce process and considering personal bankruptcy. Given the level of experience that our lawyers have handling complex divorce, high net worth divorce and divorce involving businesses, we know when to identify if bankruptcy is the right solution for our clients and can explain the benefits of filing either Chapter 7 or Chapter 13 bankruptcy.
If bankruptcy is the right solution for your situation, our lawyers will provide advice on whether to file before or after your divorce, and inform you of the steps of each process. We will apply our knowledge of the law to your situation and tailor our legal services to directly meet your unique needs.
Should You File For Divorce on Your Own?
Do you believe you and your spouse are in agreement on all critical issues, making it unnecessary to hire a lawyer? Are you thinking about handling your own divorce in the effort to avoid attorney fees? Although do-it-yourself divorce is legal and possible in theory, there are many dangers and potentially serious complications.
People who are extremely intelligent and accomplished in their own fields often find the legal processes associated with California divorce overwhelming. You do not have to hire a Board Certified Family Law Specialist at our firm — but we recommend that you talk to our experienced Orange County divorce attorneys before you take chances you may later regret.
The dangers of do-it-yourself divorce include:
Mistakes in filing required court forms and failures to meet filing dates, resulting in lengthy delays and the inability to wrap the matter up for many months or even years.
Consenting to court orders on critical issues such as child support, spousal support and property division without fully understanding the legal and financial implications.
Failure to account for tax consequences of key financial decisions, leading to unexpected costs and financial adversity in the aftermath.
Running into specialized court requirements such as a demand for proper presentation of evidence without the knowledge required to properly present such evidence.
Our Orange County Divorce Attorneys Can Help
With over 100 years of experience, you can be assured that with our Orange county divorce attorneys, you are in the right hands. Our compassionate family lawyers understand that every case is unique and how difficult going through divorce can be. Our Orange County divorce law firm is led by two partner attorneys who are all Certified Family Law Specialists as recognized by the State Bar of California Board of Legal Specialization.
Our Newport Beach divorce attorneys are proud to serve the families of Orange County, California, and will be happy to hear your case and fight for your best interest.
Give us a call or contact us online to speak with an experienced Orange County divorce attorney today. We will be happy to help.
Social Media And Divorce in California
The use of social media may seem innocent enough but a single picture, comment or message posted by you or another individual relevant to your divorce case can make a huge impact, most likely a negative impact on your divorce. If you do not have the right privacy settings on your social media accounts (although we highly recommend you take them down immediately to begin with), then everything is exposed for the entire world to see. This includes the opposing counsel who can use this information against you.
Photos, wall posts, tweets and other forms of social media communication can provide incriminating evidence that can be used in child custody battles and other issues related to the division of assets and liabilities. Be smart and always err on the side of caution. If you have to think twice about whether something is appropriate or if it could be used against you, then do not put it up on the Internet for all to see.
Divorce FAQ
Frequently Asked Questions About California Divorce
California has specific laws governing who can divorce here and how the process is carried out in the courts. People need dependable guidance as they make one of the biggest decisions of their lives — whether to file for divorce or how to respond if filed upon.
The California Family Code is vast and complex. There is no substitute for professional legal counsel if you are considering or facing divorce. However, it helps to have a grasp of some basics upfront. Below are a few common questions and brief responses:
Do I Have to be a California Resident to Divorce Here?
To file for divorce, you must be able to prove California residency for six months and residency in the county where you file for at least three months. The respondent or "defendant" spouse in a divorce case does not have to be a California resident, however.
What are Some of the Key Early Steps in the Divorce Process, and How Long Does it Take?
Divorce proceedings begin when either spouse files a petition that is served on the other. The person served then has 30 days to file a response, or the case proceeds without that response toward a likely final judgment about six months later.
If there is a response, the parties begin the process of exchanging information and, typically, attempting to negotiate a marital settlement agreement either on their own or in a mandatory conference in court. Every case is different, and the entire process can take anywhere from months to several years.
Do I Need to Prove My Spouse Is at Fault for Causing the Divorce?
No. California is a "no fault" divorce state. Grounds for divorce are not considered, although the court may consider many factors when issuing orders on child custody and other issues.
How Do I Get Started if I Have Decided I Want a Divorce — or a Legal Separation?
Our divorce attorneys strongly encourage you to contact an experienced, qualified lawyer — ideally, one who focuses exclusively on family law. Pursuing a do-it-yourself divorce is legal but filled with traps and potential complications.
At the Burch Shepard Family Law Group, our Orange County divorce lawyers have guided many hundreds of men and women through divorces of all levels of complexity. We emphasize preparation and results, always putting our clients' needs and best interests first.
Related Reading
To schedule your consultation, call us at (949) 565-4158 today. We serve all of Orange County.