At Burch Shepard Family Law Group, our one and only focus is family law. Throughout the years since our founding in 2005 – we have 130+ years of collective legal experience – we have built a strong reputation as an honest, trustworthy, and focused Newport Beach family law firm that truly does put clients first and foremost. Due to our dedication and excellence, Attorney Journal, Orange County Edition has recently named Burch Shepard Family Law Group as its Law Firm of the Month. The publication featured Attorney Robert Burch and Attorney Courtney Shepard on the cover of its Volume 141.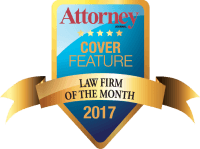 In additional to the prestigious title and honor, Attorney Journal, Orange County Edition also wrote a feature article about our law firm titled "Combining Passionate Dedication with Specialized Knowledge in Family Law". Within the article, its author, Dan Baldwin, speaks of our client-focus approach and meticulous attention to detail, giving our clients an advantage right from the start of any case. He also generously praised the way genuinely try to connect with our clients, making them feel like lifelong friends, not just a person in our law office for our legal knowledge and representation.
We would like to take this time to thank everyone who helped make the title of Law Firm of the Month possible. The Attorney Journal, Orange County Edition reaches more than 10,000 private practice attorneys throughout the region and so many of those professionals are considered for this honor. Our whole team is so grateful for this award and we promise to live up to it. Of course, thanks must also go out to all of our clients throughout the years, who have enabled us to refine our craft and grow our law firm.
If you would like to know more about this incredible achievement, click here to visit the official Attorney Journal website and learn more about the popular publication. If you think you require the assistance of our Newport Beach family lawyers, you can contact us to place an initial consultation on your schedule.